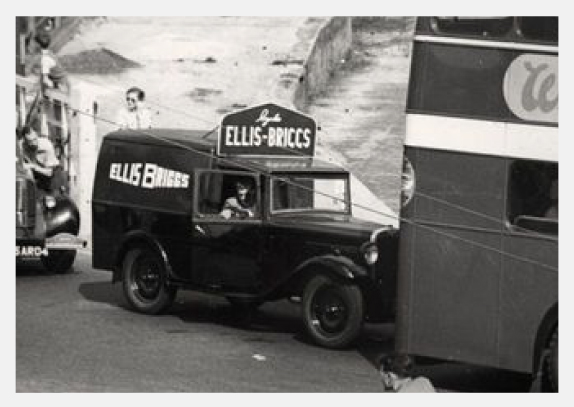 Ellis Briggs Cycles was founded in 1936 by Mr Leonard Ellis and Mr Thomas Briggs -hence the name Ellis-Briggs- which makes us the oldest custom steel framebuilders in the UK. Leonard was the son of a railway man, and Thomas was the son of a coal miner and served in the artillery during the First World War. Both men came from Hunslet in Leeds, which is where Tom met Leonard's eldest sister Nellie.
When the shop opened in 1936 there were two bicycle shops in Shipley, although that shop has disappeared now. Shipley's cycling heritage goes back over 100 years.
The Early Years
1936 – 1945
Thomas Briggs was persuaded to open a bike shop by his brother-in-law Leonard Ellis, who had previous experience in the bike business. Leonard had been shop manager at J.T. Rodgers in the centre of Leeds.
Tom Briggs had a history of building successful businesses and wanted his new firm to be the best.
Creating a High Quality Product
The club cycling scene was booming in the 1930's, although there weren't many manufacturers of lightweights in West Yorkshire at the time. The most notable was established builder W.R. Baines, whose factory was based at Thackley.
Leonard and Tom had a vision for creating high quality lightweight racing frames.  From day one they put the investment into making the Ellis Briggs workshop one of the most advanced of their time.  When most framebuilders were "one man bands" working with a few files and a vice, Ellis Briggs had purpose-built fixtures, tube mitring machines and lug cutting dies. Tom was never happy to stand still, if he could innovate, he would.
Tom and Leonard also knew that their frames needed to have a really nice finish to stand out from the crowd. They achieved this by having an enamelling shop in house from day one, which was located at the back of the main building.
Of course, it wasn't long before the outbreak of World War II and during the war years that the shop survived selling anything from bikes to boys lumber jackets! But it was a testament to the strong foundation that Leonard and Tom had built in just 3 years that the shop did survive during the war.
The Birth of Road Racing in the UK
It was after the war that the lightweight business took off.  Service men who had returned from Europe and had experienced road races in places like Italy and France realised that similar racing could be held here in the U.K. It was with the birth of Road Racing in the UK that Ellis Briggs had its biggest success, but more on that later.
More staff were needed to cope with demand during the 1950's. Some of the new employees went on to become great riders, such as Ken Russell and Doug Petty.
Thomas' son Jack was in charge of the frame shop and the workshop, and it was under his care that Ellis-Briggs continued to gain a reputation for the quality of materials, workmanship and attention to detail -qualities that we maintain to this day.
The Fifties Onwards
During the 1950's, Thomas Briggs' health had been deteriorating and Jack took over the business officially when Thomas passed away in 1956. It was also at this point that Leonard Ellis parted ways and left to manage his shop in Castleford.
The first of Jack's nephews, Rodney Priestley, joined the business in the late 1950's and quickly found his place in the enameling shop. Another of Jack's nephews, John Rayner, started working in the shop in 1959 and soon after became shop manager.
In 1965 the shop and factory moved out of the old premises and moved across the road into a brand new building. The 1960's weren't a great time for the bicycle business in the U.K. Car ownership soared and bicycle use lessened as a result.
Across the pond in the U.S., things couldn't have been more different. The framebuilders that existed there before the war had pretty much all retired and passed away, without passing on their skills to a new generation. So when young Americans were looking for 10 speed racing bikes, they looked towards the three main bike building nations of Europe, France, Italy, and Britain. As a consequence, our exports soared.
Jack and Nora Briggs retired in 1986. Their two sons John and Paul, had been working in the shop since the 60's. Paul as a mechanic and John as a salesperson.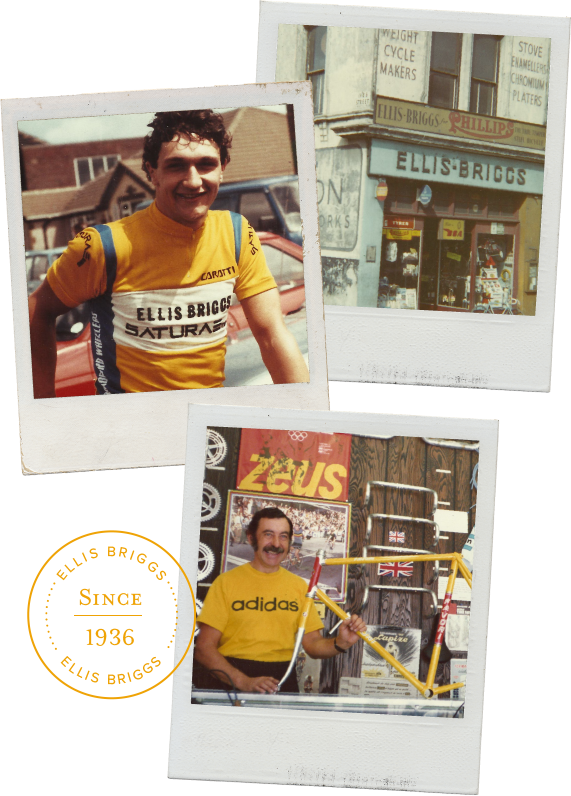 The Modern Era
John and Paul took the reigns and ran the business for nearly 30 years. The lightweight business in the 1980's was becoming increasingly difficult with competition from mail order in an already small niche market.  So John and Paul decided to create more family-oriented cycling products and bikes.  This also coincided with both the BMX boom and later the mountain bike boom.  With this new focus, the business flourished for the next 25 years.
Diversification helped us to keep the custom framebuilding side alive when most bicycle manufacturers and custom builders in the U.K. shut shops completely.
However, in the early 2000's, just when steel framebuilding in the U.K. had hit rock bottom, there was renewed interest in custom handmade frames. This was thanks to framebuilders in the U.S. who championed the bespoke frame.
By 2014 the framebuilding department, made up of Master Framebuilder Andrew Puodziunas and framebuilder Paul Gibson had grown the steel frame business to make up a large part of our turnover once again. Although now the focus was more on touring and audax bikes as well as repairing, altering and renovating classic steel frames.
In 2015 John and Paul Briggs retirement was now looming. It was Paul Gibson, who had been working in the business for the last 16 years, who had the vision and expertise to take Ellis Briggs forward and carry on the legacy.
So it was in February 2016, when John and Paul retired, that Paul Gibson took the business back to its roots.
Working alongside Paul is Simon Oldfield, who started working for the company in 1989. Simon, who has over 27 years experience of working on steel frames, handles most of the workshop duties.
Ellis Briggs – Specialists in Steel
Ellis Briggs now specialises in all things steel.  We manufacture traditional lugged steel frames using the same process that we perfected in the 1950's. We repair and modify classic and vintage steel frames and bring them back to life with new paintwork, and we can supply classic and retro parts to suit vintage and new steel frames.  We also repair and service all makes of quality bikes and we are an appointed Brompton dealer.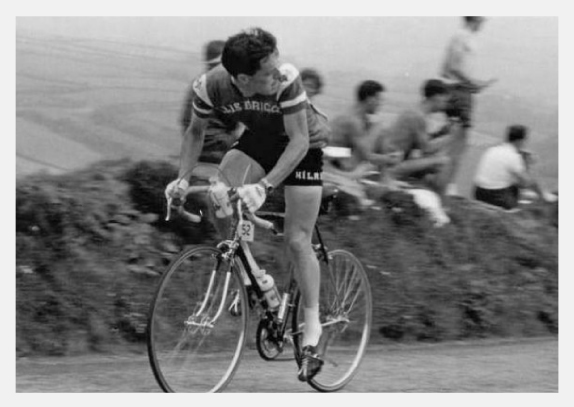 Road Racing
Over the years we have sponsored many of Yorkshire's best riders, such as Dave Rayner, Dave Mann, Bernie Burns, Bernard Burns, Albert Hitchen, Arthur Metcalf, Harry Bond, Doug Petty, Peter Nowell, Danny Horton, Gordon Thomas, Brian Robinson and Ken Russell to name a few.
Our frames have competed in and had success in the Olympic Games, Commonwealth Games, World Championships, the Tour de France and British National Championships. Although due to riders sponsors the frames didn't always have our name on!
Our biggest success was in the fifties when Ken Russell won the Tour of Britain win in 1952, completely unaided by any team support. Two years later, Brian Robinson gained 4th place in the Tour of Britain, before going on to race in the Tour de France, and win two stages (riding on Ellis Briggs frames, badged up as Geminiani). The great Beryl Burton, also preferred an Ellis Briggs frame, although due to her sponsorship they couldn't have our name on!
Success in the British National Road Championship came in 1971 when the late Danny Horton won riding an Ellis Briggs with Falcon transfers on.
In the 1980's we set up the Ellis Briggs Saturne Racing Team to help kick off the late Dave Rayner's career, as well as other talented local riders such as Bernie Burns, Dave Mann and Ian Smith. Before Dave Rayner turned pro he won Junior British Road Race in 1984, which made it the second time a rider had won the national jersey riding an Ellis Briggs. This time the frame had our transfers on!
Unfortunately, Dave was tragically killed outside a Bradford nightclub in 1994. His memory still lives on in the Dave Rayner Memorial Fund, which was set up to help young riders go to Europe and further their cycling careers. One of the first and most famous recipients was David Millar. You can read all about Dave Rayner and the fund in a new book which has been published( Everybody's Friend). All proceeds go directly to the Rayner Fund.
Today we still sponsor the Ellis Briggs Road Team which continues the backing we have always given to the sport.
We have been manufacturing hand-made cycle frames since the 1930's. Our wealth of knowledge really is unsurpassed. Our frames have been exported all over the world, but in particular to the United States and Canada. Over the years hundreds of our frames have found their way across the pond and we regularly get emails from happy owners. Even today our frames and cycles are highly sought after, although fashions have changed and the majority we sell are for touring and audax rather than racing.
So what ever your reason for visiting Ellis Briggs, we'll be happy to help.